This Event is Hosted by: Rim Country Classic Auto Club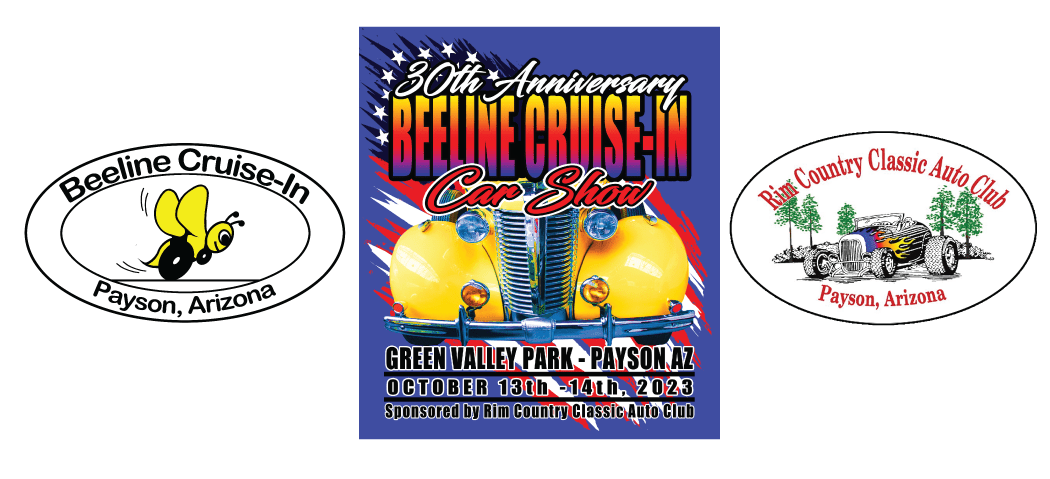 Beeline Cruise-In Car Show
October 13th & 14th, 2023
October 13th
Rumsey Park – Ramada 4
October 14th 
Green Valley Park
Beeline Cruise-In Car Show 
The Saturday morning of the car show dawns very early for a large number of organizers and set up crew for The Annual Beeline Cruise-In Car Show (8am-3pm). Participants arrive to register their very special cars at Green Valley Park and begin prepping their vehicles for the big show. Payson's great weather and the beautiful park location with many shaded areas attracts hundreds of visitors to this family-friendly event to stroll and observe the 220+ classic cars, trucks, hot rods, and motorcycles while enjoying the rock'n'roll music playing during the day. Vendors will line the park with great food and merchandise goodies. As part of the hard-working team, the Hospitality Booth is a "Buzz" as the club crew will display the beautiful gift baskets to be raffled. At the end of the day, winners of the 50-50 drawing and raffle baskets will be announced and awarded. As well, the unique car show trophies will be presented to many happy winners. The annual show is sponsored by Rim Country Classic Auto Club and PROFITS FROM THE SHOW GO TO APPRECIATIVE AND WELL-DESERVING LOCAL CHARITIES. 
Registration for the show is available on our website.
Cruise and Burger Burn at Rumsey Park
The FUN begins on Friday afternoon with pre-registration for participants and a scenic cruise around Payson with participants and club members which will be directed around the town by the Payson Police. Ending at Rumsey Park, the hungry cruisers will line up for a BBQ dinner with all of the helpers ready to fill plates with wonderful food and a bright welcoming smile. 
Rim Country Classic Auto Club (SPONSOR OF THE CAR SHOW)
Not only does RCCAC sponsor The Annual Beeline Cruise-In Car Show. RCCAC's yearly membership includes giving back to the local community, showing off your classic cars (no requirement to be a classic car owner), monthly messaging, a quarterly newsletter and Facebook page to keep the membership informed of monthly activities and events, name badges and sharing with all the members. Some of the ANNUAL events include; The Annual Beeline Cruise-In Car Show, Valentine's Day Lunch, St. Patrick's Day Lunch, Fall BBQ, Vets to Lunch (Veterans Day) and Holiday Party Lunch. Some of the MONTHLY events include caravans to car shows around Arizona, organized excursions to car museums, Show 'n Shines at different local destinations and movies at Sawmill Theater just to name a few. Some of the RCCAC men meet for breakfast weekly at Early Bird Cafe to share about their car stories. Some of the RCCAC women meet weekly at Bosa Donuts to chat and laugh.
Thanks to the Rim Country Classic Auto Club for providing this fun event showcasing Classic Cars, free for the public. 
There is no Vendor Opportunites through the Town of Payson.
If you are interested in being a vendor at a Town of Payson Event, please visit the link before for vendor request form.
1000 W. Country Club Dr.
Payson, AZ 85541
This user experience is proudly created by Axis Culture Group | Website content provided by The Town of Payson