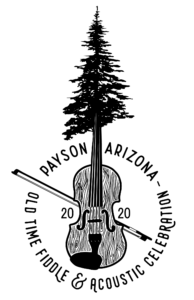 SCHEDULE INFO, TICKETS, AND REGISTRATION COMING SOON.
For nearly 50 years, Arizona musicians of all ages have gathered in Payson, Arizona on a late September weekend to celebrate music and delight spectators with their talent. Once again, Payson is proud to present:
Old Time Fiddle and Acoustic Celebration
How much does it cost?
Each day has an individual cost listed above- but here's the real winner! Buy an all-access weekend pass and it's only $30! That means you get more fun, music, and even delicious Saturday night dinner for LESS!
Can I compete?
Can I bring my dog?
No dogs will be permitted, with the exception of service dogs defined by the following explanation provided by the ADA:
"A service animal means any dog that is individually trained to do work or perform tasks for the benefit of an individual with a disability, including a physical, sensory, psychiatric, intellectual, or other mental disability. Tasks performed can include, among other things, pulling a wheelchair, retrieving dropped items, alerting a person to a sound, reminding a person to take medication, or pressing an elevator button.
Emotional support animals, comfort animals, and therapy dogs are not service animals under Title II and Title III of the ADA." These animals are not permitted.
How much does parking cost?
When & where can I buy tickets?
Tickets can be 
purchased online
 or at our office located at 1000 W Country Club Dr. in Payson. Tickets will also be available the day of the event.
What do I do if my question isn't here?
Send us an email! We'd love to help. You can contact us easily at tourism@paysonaz.gov or by phone at 928-472-5110. We're open Monday-Friday 8am-5pm, but we're out of the office from 12-1 for lunch. Talk to you soon!
This user experience is proudly created by Axis Culture Group | Website content provided by The Town of Payson