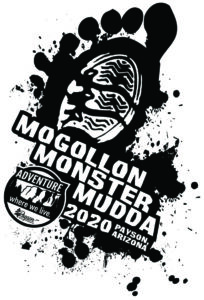 "What I love about the Mogollon Monster Mudder is that the obstacles are tough enough to challenge a competitive athlete but the camaraderie among participants allows people of all ages and fitness levels to join in on the fun."
​
– Nannette (via mudrunguide.com)
Walk away from the mogollon monster mudda with a sense of pride, accomplishment, caked on mud, and cool stuff!
Included in every adult registration is: 1 unisex tee shirt (pictured in the middle), 1 unique race medal, 1 commemorative race BIB, and an official race bag full of goodies.
Every participant has the option to upgrade their shirt option to a men's or women's tank for an additional $4. please make your selection when registering.
Nobody loves the Mogollon monster mudda more than the kids do! Each kid participant will receive: 1 kidz unisex tee, 1 commemorative race id, and a unique race medal.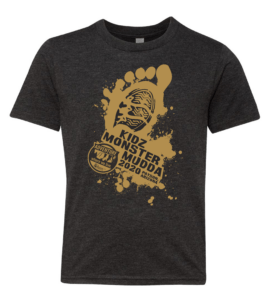 Sign up today to take advantage of the best rates before they increase.
Ages 12+ Up
Receives a t-shirt,
numbered race tracker,
swag bag, & medal
Ages 6-11 years old
Receives a t-shirt, 
race ID, &
commemorative medal.
ADULT HEATS
Interested in Elite Heats or think you may qualify for a specialty heat? Check out your options before you register!
Men's and women's, ages 12+
Top 10 of each gender qualifies for the gladiator challenge & chance to win $$$!
Men's and women's, ages 12-18.
Top 5 of each gender qualify for gladiator challenge.
Men's and women's, ages 50+.
Top 5 of each gender qualify for gladiator challenge.
Men's and women's, ages 18+.
Must be current or retired members of law enforcement, first responders, military, or medical to participate. 
Registration fee is waived. May be asked to present proof.
Top 5 total qualify for gladiator challenge.
FAQ
Wondering a little more about the Mogollon Monster Mudda? Be sure to check out our race policies!
Can I bring my dog?
Although we love pets and animals, due to the safety of all animals, spectators, competitors, staff and volunteers, dogs of any kind or any animals will not be permitted to participate in the Mogollon Monster Mudda, Kidz Mudda or Gladiator Challenge. They are invited as spectators, if well behaved, on a leash, and with the owner at all times, but cannot participate. Remember! Its summer time, make sure your fur friend has water too!
The Town of Payson reserves the right to remove any animal from the race facility
Where do I park?
Parking will be available at the Payson Multi Event Center at no charge, but space is limited. O
verflow parking at the Mazatzal Hotel & Casino.
*Arrive early to ensure adequate parking!
How do I get my packet?
All packet pick is up scheduled at the Payson Multi Event Center: 1400 S. Beeline Hwy, Payson, AZ 85541
Pickup times:
Friday, June 19, 2020 | 3:00pm- 7:00pm (Mogollon Monster Mudda & Kidz)
Saturday, June 20, 2020 | 5:30am- 11:00am (Mogollon Monster Mudda) / 5:30am 12:40pm (Kidz Mudda)
**Can I pick up someone else's packet: Yes, ONLY if the participants packet you are picking up does not have to sign any documents or owes payment!
**Leftover packets can be picked up in person at the Parks, Recreation, and Tourism office for one week following the event. Packets will not be mailed.
Can I exchange my shirt?
There will be a limited number of extra shirts available on race day, should your shirt not fit or you would like to change it. These shirts will be available on a first-come, first-serve basis. If you would like to exchange a tank for a t-shirt, no refund will be given. If you would like to exchange a t-shirt for a tank, it will cost the upgrade price of $4 additional dollars.
I'm registered but something came up...
Any heat time changes must be done prior to May 1, 2020. Any request to change heat times after May 1, 2020 will be denied.
If you registered for the race and are no longer able to compete, you can transfer your heat spot to another individual prior to May 1, 2020 . Any requested for a registration transfer after May 1, 2020 will be denied.
*Any request for the above must be done to the Town of Payson Parks, Recreation & Tourism Office by phone or email; 928 472 5110 | tourism@paysonaz.gov
**Once registered, no refunds or credits.
Can my family/ business/ gym/ group run together?
Absolutely! Just be sure to register in the same heat. Once a heat is full, we do not allow any additional participants. Participants MUST be 12+ to participate in the adult heats, and no exceptions will be allowed.
Where can I find the race results?
Race timing will be done by CEP Timing.
Timing chips are MYLAPS Multi Sport Disposable Chips, which are in the form of an ankle strap. The ankle strap number will act as your bib.
The disposable chips are to be worn by each entrant to ensure proper timing.
Chips must be securely wrapped around the ankle. DO NOT duct tape over the strap number to avoid interference with the chip "Chip Timed" race means your time will begin when you cross the start line; not total heat start time.
Race results will be on site at the finish line, posted on paysonrimcountry.com/mudda, and ceptiming.com
CEP Timing results are final.
If a chip timer malfunctions, time may not be recorded for that individual.
Can my friends come and watch?
Admission to the Mogollon Monster Mudda & Gladiator Challenge is FREE.
Spectators can be seated in the main arena of the Payson Multi Event Center on the north bleachers, and can also watch at the start line, as well as the bleacher area on the east end of the warm up arena.
Spectators cannot participate in any portion of the race. All spectators are asked to stay clear of the racecourse for their safety, as well as participants'. Spectators will need to follow all instructions from race staff and volunteers to ensure no hindrance to the race process.
All children need to be supervised by an adult at all times.
Children are not permitted to be in the bleachers unsupervised while parent/guardians participate in the event.
I want to photograph this event!
Only approved photographers are allowed to be on the course!
Approved photographers: Have written permission from the Town of Payson Parks, Recreation & Tourism Office PRIOR to the event day. Approved photographers will have credential verification.
Non approved photographers on the course will be escorted off the property.
Official race photos will be available free of charge to participants via Adventure Payson Facebook Page (@AdventurePayson). Allow 3 5 business days after the race for all photos to be uploaded. We do not guarantee that we will capture every racer.
I still have a question...
Be sure to check out our
RACE POLICIES 
if you have any additional questions!
If that document still leaves you wondering, please email us at tourism@paysonaz.gov and we will do our best to get your question answered!