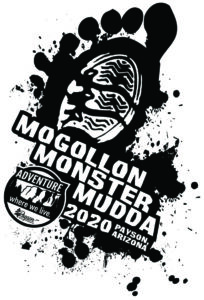 OFFICIAL ANNOUNCEMENT
2020 MOGOLLON MONSTER MUDDA – CANCELLED
This notice is to inform our participants and the public, due to all elements considered, the Mogollon Monster Mudda & Kidz Mudda is officially cancelled for this weekend, Saturday, June 20, 2020. It is unfortunate to make this announcement, but feel it is appropriate and in the best interest for all. All registered participants will receive a refund. Packet pick-up will no longer be conducted at the Payson Multi-Event Center today, Thursday, June 18 or Friday, June 19. We appreciate your cooperation and patience during this time. More information will be sent via email to race participants.
Sincerely, Town of Payson Parks, Recreation, & Tourism Office
Due to these unplanned circumstances & the cancellation of the Mogollon Monster Mudda on June 20, 2020, we will allow registered Mudda participants the option to pick up their race shirt at the Town of Payson Parks, Recreation & Tourism Office on: 
Friday, June 19, Monday, June 22, and Tuesday, June 23 
from 8am-12pm or 1pm-5pm
Race shirts are only available via pickup at the Parks, Recreation & Tourism office. Shirts will not be mailed.
Address: 1000 W. Country Club Dr., Payson, AZ 85541
"What I love about the Mogollon Monster Mudda is that the obstacles are tough enough to challenge a competitive athlete but the camaraderie among participants allows people of all ages and fitness levels to join in on the fun."
​
– Nannette (via mudrunguide.com)
This user experience is proudly created by Axis Culture Group | Website content provided by The Town of Payson