In light of COVID-19, there are many things that have changed and require social distancing. But that doesn't mean that we can't adventure in different ways! Check out the fun virtual adventures below, and "join" us (virtually, while practicing social distancing, of course!) for some fun!
Visit us on Facebook!
facebook.com/adventurepayson
Gather the family and print out your Adventure Ad-Libs! Enjoy filling in the blanks how ever you like! Make it silly or make it serious. Whatever you choose, it will be an adventure! Did you finish your Ad-Lib? Share it with us on Facebook!
Looking for somethings fun to do at home with the family? Check out the Adventure Word Search! Print them out for the family and enjoy something fun to do together. Of course, be sure to share on Facebook or Instagram when you've finished. Good luck!
Mogollon Monster Virtual Charades
Join us on Facebook LIVE on Wednesday, April 15th at 6pm to play Mogollon Monster Virtual Charades! Click the button below to print out your playing sheet, and be sure to print one for each member of the family. Then gather around the computer and watch on Wednesday to see the Mogollon Monster act out some adventurous charades. At the end, each will be revealed. Who will get the most points? We'll just have to find out… See you Wednesday at facebook.com/adventurepayson.
Follow along on Facebook and join us on Wednesday, April 8th at 6pm MST. Gather your quarantine buddies, text your friends, and print out a card (please be fair and only play with one per person). Below, you'll find 4 BINGO cards. Take your pick and print it out. We may be social distancing, but we can have some fun!
Easter Bunny Adventure Parade
Join us on Easter Sunday (April 12) as the Easter Bunny rides through town! He'll wave at children (from a safe social distance, of course), and help make Easter magical despite having to stay home. The adventure begins at 8am. Click the button below for routes and streets where you can expect to see him drive by!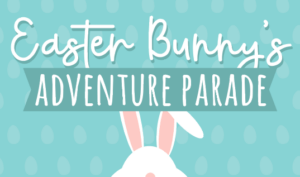 This user experience is proudly created by Axis Culture Group | Website content provided by The Town of Payson