Join us for a VIRTUAL Cinco de Mayo race! Put on your favorite socks and running shoes and don your most colorful attire!
Use your phone GPS or running app to track your distance and time. Run 5.5mi to celebrate the date, or stick to the 2.2 or 1.0mi as planned. No distance restrictions or limitations- do what you choose. Whatever your choice, just enjoy being outside and being healthy!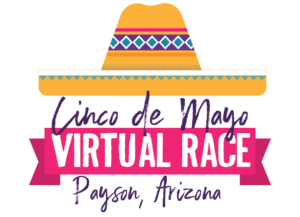 Sign up today to be sure you get a spot in this virtual race! Availability is limited, and may sell out quickly.
VIRTUAL RUN
$20
Registration closes April 30
Includes race medal
How does it work?
Register yourself or your whole family- just be sure to practice safe social distancing!
Download any mobile app to track your distance.
After you complete your run/walk, be sure to take a photo or screenshot of your distance to submit. 
After the run timeline has passed (5/2-5/5), we will send an email to all registered participants. Fill out that form and submit it for proof of submission.
After we receive your information, we will send you a race medal and congratulations for a job well done!
Please be mindful and follow social distancing rules. 
Where do I run/ walk?
That's completely up to you! Since this race is virtual, we put you in control. Please be sure to abide by all road rules and respect other runners/ walkers/ vehicles/ etc.
Is there a cost?
There is a cost to register for the race. Please scroll up to register!
Why a virtual race?
Due to COVID-19, it is not possible for us to gather a large group of runners together. But what better time to get outside and get healthy? We're excited that you'll be joining us and fellow runners who are looking forward to racing "together" while apart. Be sure to challenge your friends… who knows, you may get the best time!
I registered before...
Have you already registered? Great! You're ready to go for this virtual run!
If you registered prior but cannot participate in this virtual race, please contact tourism@paysonaz.gov to receive a refund.
This user experience is proudly created by Axis Culture Group | Website content provided by The Town of Payson